AFO Course in Damon Technique – Your patients' smile is our mission
5 Years Free Post Course Mentoring
DATES & VENUE

June 16th to 17th, November 10th to 11th, 2018 – Lausanne, Switzerland
Course 09.00 AM to 5.00 PM
Lunch Break
Course Fees – 2,500 CHF (Limited seats, register asap)

Pay registration fees of 1300 USD (1205 Euro) here
Pay here in Euro
DAMON & LASER COURSES
Launch your knowledge and skills at the highest level in one of the most pioneering and advanced dental practices in Europe. This course is different from others due to its more private and personal environment (less than four participants per course) and high tech location. You also get 5 years free post course mentoring for all your Damon cases (T&C Apply).
Location
Lausanne, Switzerland
All lectures will take place in a Swiss High-Tech Dental Practice (with the most advanced equipment and materials in the field of dentistry).
Dates 
Laser (1 day) and Damon (2 days), can be taken together or separately!
JUNE 2018: Fri 15, Sat 16, Sun 17
NOVEMBER 2018: Fri 9, Sat 10, Sun 11
Course Fee (per person)
Damon (2 days) 2,500 CHF
Laser (1 day) 1,500 CHF
Damon + Laser (3 days) 3,000 CHF
Inclusions
Damon course (2 days) and/or Laser course (1 day)
High-Tech Tips Lecture
Theory and Hands-on in all lectures
Hotel / Breakfast & Lunch & Snacks
Faculty
Dr Nancy Maurer, Specialist Orthodontist. Click here to learn more about the faculty.
INTEGRATED DAMON COURSE
A simplified, predictable and precise technique. Damon Orthodontics course in Switzerland, Europe.
For a more complete and global outcome. More than a treatment, Damon is a global concept and a philosophy of treatment.
GOALS
Helping you to target: Teeth, Muscles, Jaws, TMJ, Posture & Oral functions!
Helping you to achieve: Aesthetics, Function & Stability!
This is the most powerful and complete technique which focuses not only in the correction of any malocclusion but also in the correction of the factors causing the malocclusion thus avoiding relapse in the future.
APPROACH
Systematic, exhaustive and consistent.
LEARNING OBJECTIVES
1 To understand crucial concepts such as: orthodontics, maxilo-facial
orthopedics, diagnosis, classification, codification, quantification,
treatment planning, treatment philosophy and treatment mechanics;
2 To comprehensively diagnose a clinical case and select the right cases
for Damon system technique;
3 To accurately select the most appropriate Damon bracket and torque for
each individual case and to comprehensively treat the patient to the
satisfaction of all stakeholders; To review and reflect on each individual
case aiming to improve treatment mechanics and outcomes.
LEARNING OUTCOMES
Students will be able to select, diagnose, plan and treat an orthodontic
case using the Damon Passive self-ligation technique.
Students can take the help of remote mentoring to clarify their doubts and
for step by step instructions on each case.
MODULE I
1 INTRODUCTION
1.1 Welcome
1.2 Attendees
1.3 AFO Academy of Fixed Orthodontics & Dr Ravi Kumar
1.4 Dr Nancy Maurer
2 SYSTEMATIC APPROACH
2.1 Aims/Goals
2.2 Concepts
2.3 Assessment
2.4 Diagnosis
2.5 Treatment planning
3 HISTORICAL UPDATE
3.1 Treatment philosophies
3.2 Fixed appliances & bracket design
MODULE II
1 GENERALITIES
1.1 Founder
1.2 Concepts
1.3 Aims/Goals
1.4 Indications & Contraindications
1.5 Advantages & Disadvantages
2 PHILOSOPHY
2.1 Face driven treatment planning
2.2 Physiologically adaptive mechanics
2.3 Low friction biomechanics
2.4 Phases of treatment
3 MATERIALS
3.1 Brackets (materials, types, prescriptions, torque selection, placement)
3.2 Bonding (materials, techniques)
3.3 Arch wires (materials, types, sequence)
3.4 Inter and intra-maxillary elastics (types, prescriptions, applications)
3.5 Auxiliary elements (stops, coils, built-ups…)
MODULE III
1 STANDARD OPERATING PROTOCOL: PROTOCOLIZED MECHANICS
&
2 CLINICAL CASES
Crowding
No crowding
Posterior crossbite
Perio
Agenesia
Impaction
Class I: dental / skeletal
Class I: with deepbite / with openbite
Class II: dental / skeletal
Class II: with deepbite / with openbite
Class III: dental / skeletal
Without extractions
With extractions
3 CLINICAL MANAGEMENT
3.1 Anchorage
3.2 Complementary appliances (functional and non-functional)
3.3 Complementary procedures
3.4 Tips & Tricks
3.5 Finishing
MODULE IV
1 RETENTION & STABILITY versus RELAPSE
1.1 Introduction
1.2 Concepts
1.3 Educational journey
1.4 Factors pro-relapse
1.5 Principles/Factors/Methods pro-retention
1.6 Appliances pro-retention
1.7 Methods anti-relapse (post or short-term orthodontics)
2 DAMON SPLINT
3 CLINICAL CASES
MODULE V
1 CLINICAL CASES
2 TYPODONT HANDS ON
3 DISCUSSION & CONCLUSION
MODULE VI
FREE 5-YEAR REMOTE MONITORING (Forum/Email)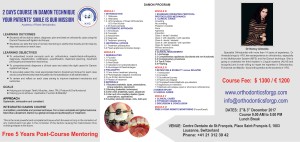 Take this course together with the Laser course in Lausanne, Switzerland and you pay only 3000 CHF in total. Click here for the Laser Course details.
Refund policy – If you do not get a Visa and you email us the Visa refusal letter at least 1 month before the course, we will refund 1000 USD (300 USD will be deducted from the course fee as administrative charges).
Contact us for Damon Orthodontics course in New York (June 23rd & 24th, December 8th & 9th, 2018). Academy of Fixed Orthodontics course in Europe is organized by AFO New York and / or AFO India. Certification depends on the course you will be attending. Please contact us for details.